Our Mission
It is the mission of the Law Enforcement Records Bureau (LERB) to maintain complete and accurate records and respond to the needs of the public and law enforcement and criminal justice agencies in an efficient and expeditious manner.
We provide support and customer engagement through our many applications, programs, and services to achieve our mission objectives.
Direct Inquiry Phone Numbers
| | |
| --- | --- |
| Fingerprinting and Background Checks | |
| Concealed Handgun Carry Licences | |
What We Do
We offer a multitude of services, applications, resources, and trainings available to the public and law enforcement partners. If you are a law enforcement partner and would like to view or request our trainings, please visit our Trainings section.
Background Checks
The New Mexico State Central Repository for Criminal History maintains arrest record information on persons arrested in New Mexico for felony, misdemeanor (offenses punishable by six months or more imprisonment) and DWI offenses.
This information is based on fingerprint cards taken at the time of arrest, which serve as the source document for criminal history and are submitted to this State Repository by the arresting agency. The completeness and accuracy of this information is dependent on the contributing agencies.
Pursuant to the New Mexico Arrest Record Information Act (§29-10-6 NMSA 1978), an individual may inspect, in person, through his counsel, or through his authorized agent, arrest record information concerning him/her.
To obtain arrest record information, a legible, complete, and notarized Department of Public Safety (DPS) Authorization for Release of Information form (click here for Spanish version) must be submitted to this agency for processing.
The processing fee is $15.00 per record check in the form of a money order or cashier's check made payable to: "New Mexico Department of Public Safety". NMDPS must receive the authorization form with the "original" signature. With the required release and proper payment, all adult arrest records are released.
Fingerprinting
Electronic
New Mexico Applicant Processing Service (NMAPS) is the applicant background check solution that is fully electronic and provides New Mexico residents the means to complete their required federal and state background checks quickly and conveniently. To utilize this service or for more information, please click the NMAPS image below.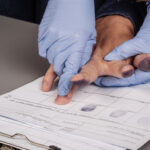 New Mexico Applicant Processing Service
If you utilized NMAPS and would like to check the status or any delay of your application, your first point of contact should be the agency you initially submitted your application and prints to (i.e., Department of Health, Department of Education, potential employer, etc.). Once your prints are submitted to DPS electronically, the agency will receive a response from DPS within 24-48 hours and from the FBI within 48-72 hours. Please visit the NMAPS Process Overview for more information about the online fingerprint and background check process.
If you have additional questions or need guidance on the electronic fingerprinting process, please email nmaps.dps@dps.nm.gov.  For a map of fingerprinting locations, go here.
Manual
LERB Customer Engagement Support office offers manual fingerprinting services at the DPS Headquarters building in Santa Fe.
Fingerprint Hours of Operation
Fees
Additional Fees
Customer Engagement Support Phone
Monday – Friday 8AM to 4PM
(May be closed holidays)
$9.00 total for the first two fingerprint cards
$2.50/each
for additional fingerprint cards
(505) 827-9181
For more information about manual fingerprinting services, please contact the Customer Engagement Support office at the number listed above.
Letter of Good Standing
If a "Police Certificate of Good Standing" is needed (usually for immigration purposes), the cost of the certification with the background check is $33.00 in the form of a money order or cashier's check made payable to: "New Mexico Department of Public Safety".
The turnaround time is 7-15 working days from the date of receipt (depending on the current volumes and workload) and should only be requested by mail.
Required Request Form
Mail To:
Police Certificate of Good Standing Authorization Form
LERB Customer Engagement 
PO Box 1628
Santa Fe, NM 87504-1628
VISA clearance
Customer Engagement Support
For all Law Enforcement Records Bureau related inquiries pertaining to the following:
Background Checks
Fingerprinting
Letters of Good Standing
VISA Clearance
Call (505) 827-9181
Concealed Handgun Carry Online Application Portal
NEW ONLINE PORTAL AVAILABLE FOR CONCEALED CARRY APPLICANTS!
IPRA
Records can also be requested by filing a public records request through the Gov AQ request portal. A fee is not charged for records provided electronically through the GovQA request portal.
To request records through the Gov AQ portal, please click the request button below: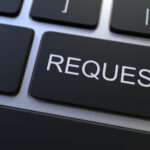 If you are unable to submit your request online using the above link, you may complete the IPRA Written Request Form and submit via mail, email, or fax.
Completed request forms may be sent to:
Physical copies of records provided in person, by mail, or by fax are subject to a copy fee of:
$1.00 for the first page
$0.25 for each subsequent page
$6.75 for discs
**ALL INVOICES MUST BE PAID PRIOR TO RELEASING RECORDS**
Criminal History Clearinghouse
***Criminal History Clearinghouse
Computerized Criminal History
No information. @LERB Staff: Please provide
AFIS
No information. @LERB Staff: Please provide
Interstate Identification Index (III or "Triple I")
No information. @LERB Staff: Please provide
Criminal Card Scanning
No information. @LERB Staff: Please provide
Missing Persons Clearinghouse
The Missing Persons Information Clearinghouse is established in DPS and administered by the LERB, pursuant to §29-15-3 NMSA 1978. The clearinghouse is a central repository of information on missing persons and is used by all law enforcement agencies, including tribal agencies, in the state. The purpose of the clearinghouse is to collect, exchange, and disseminate accurate information relating to missing persons in the state to locate and recover those persons in a timely and safe manner.
The Missing Persons Clearinghouse is responsible for posting missing persons to the public website and releasing alerts to the media, as well as keeping in contact with the police agencies and the National Center for Missing and Exploited Children to keep all information current. As a Clearinghouse, we release Amber Alerts and Silver Alerts to the media. Each missing person is posted to the public website by the Clearinghouse with a picture and brief description of where the person was last seen, wearing, and any additional information available.
A person can be reported missing at any time when their whereabouts are unknown and are believed to be in danger, regardless of age.
The clearinghouse also provides training and statistics relating to the incidence of missing persons.
The department of public safety may accept public or private grants, gifts, and donations to assist the department in carrying out the provisions of the Missing Persons Information and Reporting Act.
AMBER Alert
An AMBER Alert creates a notification system for law enforcement when a child under 18 who has been abducted and is in danger of serious bodily harm or death.
Silver Alert
A Silver Alert creates a notification system for law enforcement when an adult reported as a missing person who is fifty years or older and whom there is a clear indication that the individual has irreversible brain disorder. (i.e., Alzheimer's, Dementia, etc.)
Brittany Alert
A Brittany Alert creates a notification system for law enforcement when an endangered person, who is a missing person and whom there is a clear indication that the person has a developmental disability as defined in Subsection A of §28-16A-6 NMSA 1978 and that the person's health or safety is at risk.
Brittany Alert Resources
Brittany Alert FAQs
When did the New Mexico Brittany Alert go into effect?
The Brittany Alert law went into effect on July 1, 2016 signed by Governor Susana Martinez.
What if you believe a family member is missing and falls under a Brittany Alert?
Contact your local law enforcement immediately. The sooner this information gets out, the better.
What information will l need when reporting to law enforcement?
The information from the Brittany Alert Report Form. This information includes basic descriptors of the missing person, info pertaining to their age and mental state, last known location, vehicle description if a vehicle is involved, and an updated photograph. *It is very important to include the most recent photograph in color.
What happens when a Brittany Alert goes out?
The Department of Public Safety sends the alert to all media outlets for broadcast. Information included are general descriptors, last seen location, photo etc. Information will go statewide, unless there is specific evidence leading one to believe the loved one is in the general area.
What to do if one sees the Brittany Alert person?
Dial 911 immediately and notify authorities.
Sex Offender Registry
The Sex Offender Registry is responsible for ensuring compliance by the Sheriff's Office (Entry) and offenders (Registration). Sex Offender Registry manages the Offender Watch database which is used by the Sheriff's offices to enter in registrations. This system generates the public website and is also the conduit to NCIC. This unit also assists in the translation of convictions for sex offenders who move to New Mexico from another state or have a tribal, federal, military, or foreign conviction. Translation takes into consideration the statues and court decisions from another jurisdiction and matches it as closely as possible to New Mexico's statute to determine the duration and frequency an offender will need to register.  Weekly, the registry does a mass mailing to offenders as a reminder of their need to register based on their registration requirement. This is pursuant to state statute §29-11A-1 NMSA 1978.
NM DPS adopted an updated rule, 10.2.3 NMAC, for Sex Offender Registration and Notification Act.
Sex Offender Registration and Notification Act
The Sex Offender Registration and Notification Act (SORNA) was created to help law enforcement to ensure the communities are safe by requiring anyone convicted, incarcerated, or on probation or parole as of July 1, 1995, for a sex offense to register as a sex offender. The Sex Offender Registry (SOR) Unit within each county agency is responsible for registering convicted sex offenders and making sure they maintain compliance with the New Mexico Sex Offense Laws. When a county sheriff's office updates a registration, the information is uploaded into a database where information on certain offenders can be viewed by the public.
Contact:
Email: dps.sorna@dps.nm.gov
Phone: 505-476-2444
What do I do if I think a person is a sex offender, but they are not listed on the website?
Under New Mexico law, not all sex offenders are required to register and not all registered sex offenders are publishable on the website. If you believe that an individual should be required to register it is always best contact your local county sheriff's office or the NMDPS SOR unit.
Why is a registered sex offender living near a school or daycare?
New Mexico does not have residential restrictions, however, an offender on probation or parole may have Special Conditions that restrict him or her from living near these areas. If you are unsure if an offender should be following any Special Conditions, please contact the Probation and Parole Office as this may be a violation of his or her supervision.
How do I get notified if a sex offender moves into my neighborhood?
You can register on our website to receive email notifications when an offender moves into your neighborhood.
What do I need to do to register in the state of New Mexico?
Offenders moving to the state of New Mexico need to report to the county sheriff's office for the county in which they will be living. Offenders also need to make sure they have all court paperwork (Judgement & Sentence and Police Report) when contacting their county Sheriff's Office.
If I am passing through, visiting, staying for a couple of days, etc. in New Mexico, am I required to register?
You will need to register if you were convicted prior to July 1, 2013 and are going to be in the state of New Mexico for longer than fourteen (14) days or for an aggregate of more than thirty (30) days during any calendar year. You will need to register within five (5) days if you were convicted after July 1, 2013.
What determines how long I will have to register?
There are five (5) different risk classifications under which an offender will be require based on offense and conviction/release date:
90 Day Re-Registrants
90 Day Non-Releasable
Annual Registrants
Annual Non-Releasable
Semi-Annual Non-Releasable
For more information regarding these laws and registration requirements, please contact your local county sheriff's office or the NM DPS SOR unit.
Why am I required to register if I was convicted before July 1, 1995?
If you were incarcerated or on probation or parole on or after July 1, 1995, you will be required to register in the state of New Mexico.
How does NCIC help?
NCIC helps criminal justice professionals:
find fugitives
locate missing people
recover stolen property
identify terrorists
perform other duties more safely
The FBI launched the NCIC in 1967. It started with five files and 356,784 records.
NCIC now has 21 files with more than 16 million active records. The NCIC averages millions of transactions each day.
NCIC Resources
Missing Persons Reporting
NCIC
TAC