Santa Fe County, NM – The following is information for the distribution of a Missing Endangered Person Advisory from the New Mexico State Police.
The New Mexico State Police is asking the public for assistance in locating Maria "Rita" Moncada Moreno, 74, of Venezuela. 
On September 5, at around 3:30 p.m., New Mexico State Police officers were dispatched to the parking lot of the Winsor Trail, near the Santa Fe Ski Basin for an overdue hiker.
Officers learned that Rita was hiking with a family member on the Winsor Trail.  At around 9:30 a.m., the two separated with a plan to meet back up at their vehicle that was parked at the Winsor trailhead.  When Rita did not show up, the family member called for assistance. 
Rita has silver hair.  She was wearing a tan straw hat, a black and white striped shirt, grey leggings, and a bright blue insulated jacket, with purple and blue running shoes.  It's unknown if she has any food or water with her. 
Immediately after officers arrived, New Mexico Search and Rescue (SAR) was activated. Ten SAR volunteers and one K9 team making up two ground teams have been in the area searching.
New Mexico State Police's helicopter A.B.L.E. 7 has been in the area on both days assisting ground crews in the search. 
Anyone who has been in the area and may have seen Rita or has any other information on her whereabouts is asked to call the New Mexico State Police at (505) 841-9256 option 1, or dial 911.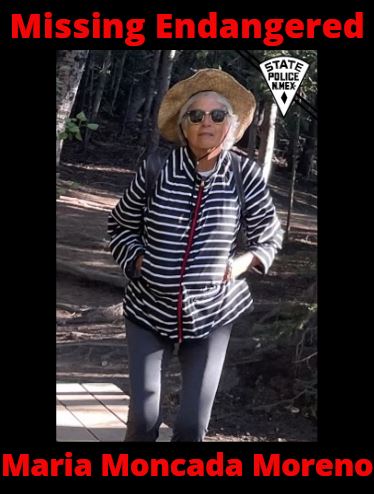 Pictured in the clothes she was wearing when last seen.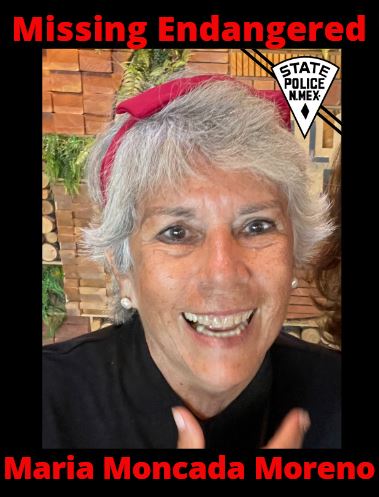 ###