Los Lunas, NM – The following information is for the distribution of a Missing Endangered Person Advisory from the Valencia County Sheriff's Office (VCSO).  For details, contact VCSO at (505) 865-9130.
VCSO is asking the public for assistance in locating Iesha Williams, 29, of Los Lunas.  She was last seen on September 1, on the 200 block of Garden Lane in Los Lunas.  She is believed to be driving a grey 1994 Chevy S-10 pickup with a black hood.  The S-10 has a New Mexico license plate of PSH-272. 
Iesha is 5'7" tall, weighing 130 lbs., with brown eyes and black hair.  She has a small heart tattoo on her chest, an owl tattoo on her right forearm, and a Roman Numeral tattoo above her left eye.   She was last seen wearing a tan windbreaker and flower-patterned blouse.   Her direction of travel and destination are not known. 
If you have information on the whereabouts of Iesha Williams, please contact VCSO at (505) 865-9130.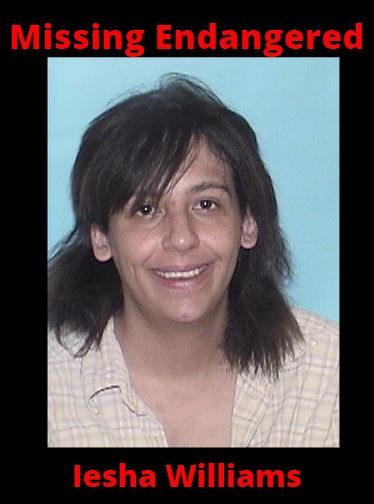 ###