Cibola, NM – On August 16, 2022, the New Mexico State Police received reports of a stolen Corrales Fire Department truck traveling west on Interstate 40 near milepost 149. The Corrales fire truck was reported as stolen while crews were on a medical call at a residence in Corrales, NM.
At around 8:06 a.m., the New Mexico State Police was contacted by the Laguna Police Department (LPD), who advised they were pursuing the stolen fire truck west on Interstate 40 near milepost 135. Around milepost 117, a New Mexico State Police officer assisted LPD. Another LPD officer assisting, deployed tire deflation devices near milepost 114. The driver of the stolen fire truck, later identified as Dennis L. Chavez (35) of Rio Rancho, NM drove over the tire deflation devices. Chavez continued to drive west on Interstate 40, exiting off the Interstate at exit 108. Chavez then drove into the parking lot of the Dancing Eagle Gas Station, where he crashed into a wall. After the crash, Chavez exited the vehicle and ignored numerous verbal commands given by officers to surrender peacefully. Officers were able to take Chavez into custody.
Dennis L. Chavez was transported and booked into the Cibola County Correction Center Core Civic in Milan, NM. Chavez was charged with the following:
Receiving or Transferring a Stolen Motor Vehicle
Aggravated Fleeing from a Law Enforcement Officer
Resisting, Evading, or Obstruction of a Peace Officer
Criminal Damage to Property (Under $1,000)
Chavez also had an outstanding felony arrest warrant for his arrest out of the Second Judicial District Court in Albuquerque, NM.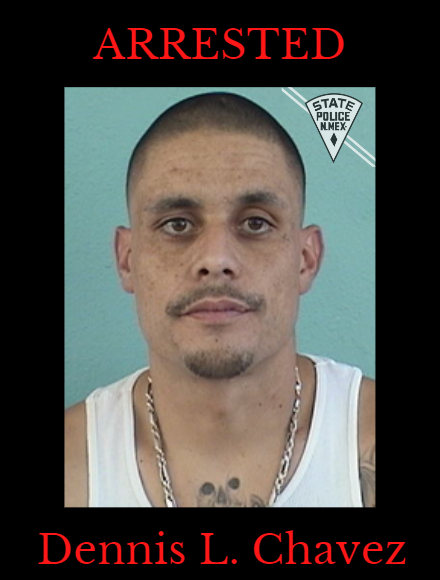 ###