For Immediate Release
July 28, 2022
New Mexico State Police take Colorado fugitive into custody after pursuit
Farmington, NM – New Mexico State Police officers have arrested wanted Colorado fugitive, Philibert Rentz, 35, of Montezuma Creek, Utah after spotting him in Farmington.
The investigation began on July 26, 2022, at around 2:30 p.m., when the New Mexico State Police were alerted by the United States Marshals Service that they had reason to believe Rentz was in the area. He was driving a 2005 black Chevrolet passenger car with a Utah license plate of 7R8ST.  State police officers on patrol saw Rentz in the vehicle near the area of East Broadway and Scott Avenue in Farmington.
Officers initiated a traffic stop, but Rentz drove away, and a pursuit ensued. Rentz tried to get away from officers by driving recklessly at speeds of over 100 mph.  On Navajo Route 36, near milepost 20 state police officers successfully performed a Pursuit Intervention Technique (PIT) on the vehicle, and Rentz was taken into custody.
Inside Rentz's car officers found a loaded handgun, Methamphetamine, and drug paraphernalia.  Rentz was booked into the San Juan County Adult Detention Center in Farmington on active arrest warrants from Colorado. 
State police officers also charged Rentz with Aggravated Fleeing a Law Enforcement Officer, Felon in Possession of Firearm, Possession of Controlled Substance, and Possession of Drug Paraphernalia.
For information on the warrants in Colorado, please contact the Montezuma County Sheriff's Office in Cortez, Colorado.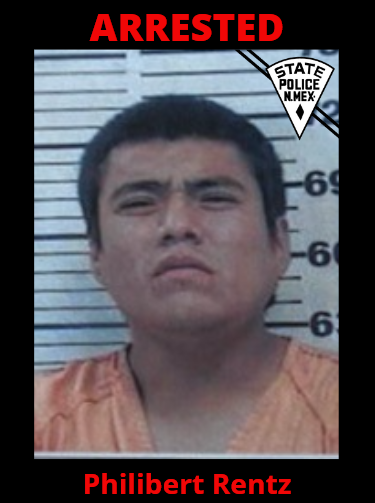 ###